Who we are
A story born of care
It all started over a dinner table conversation with a friend as we were sharing anecdotes on how our parents had become like children again, and needed help with the same things they did for us when we were growing up. We don't like to think about it, but we have to face the fact that as our parents grow older, they need us more and more. We would like to be there all the time for them, but it's not possible always.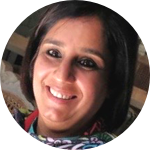 Suchint Murali
Founder
Suchint has been an HR professional since the last 25 years. She founded Sakhi4Life in pursuit of her passion for social entrepreneurship.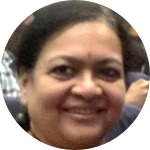 Gayathri Suresh
Co-founder
A CA with 26+ years' experience with MNCs & banks.
Pooja Jalan
Co-founder
Pooja is a Certified Healer across modalities and organises Mind & Wellness fests across India.
Our values
What makes us different?

TRUSTWORTHY
We, the founders are always on call to answer any queries you might have. Our experienced and trusted Sakhi Counsellors and Companions are specifically trained to treat your loved ones as a part of the Sakhi family, and not just as Clients.

RELIABLE
Because no matter what, no matter when, no matter where, we will ensure that your specific concerns are addressed honestly and quickly. In a customised and personalised manner. And we will never ever make promises we cannot keep.

EXPERIENCED
Each of our founders has over 25 years of experience in handling people. Experts in Human Resources, Healing and Business, we are well aware of the needs, wants and desires of not just the seniors, but also of their care-givers. This gives us a unique, humane perspective and experience which nobody else is offering.
Our motivation
Why was Sakhi4Life founded?
We are all women who have experienced the joys and travails of having to care for the elders in our families. We personally know people who have sacrificed thriving careers in order to devote their time to seniors in the family who needed round the clock attention. Even they need some time off, some time to call their own. On the other end of the spectrum, we have perfectly fit senior citizens who only suffer from one thing: loneliness. Sakhi4Life was conceived with the idea of offering support to both ends of the spectrum, and everything in between. In a professional, yet humane manner.